Charitable Gift Annuity
Secure a reliable income stream back to your family and help end poverty - that's Food for the Hungry's gift annuity in a nutshell.
Charitable Gift Annuity
Stock or Cash
Gift Annuity
Donor
F. H.
How it Works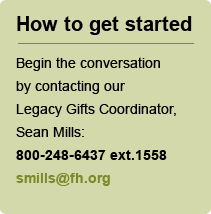 You gift an asset to FH and enjoy a charitable deduction for the gift.
FH contractually arranges to make fixed payments back to you or to a loved one you name for the duration of your/their life (minimum age restrictions apply). The rate of fixed income is set by national standards and rises considerably with age.
Then, when you no longer need it, what remains from the fund will support the transformative work of Christ in the lives of the poor.
That's it. No more stress over the volatility of the market, no more hassle investing the asset. We manage it and you enjoy the steady income payments.
Attractive Tax Advantages
Receive a charitable income tax deduction when you fund the annuity.
Bypass a portion of the capital gains tax.
Receive partially tax free payouts.
For example, funding a gift annuity with appreciated stock worth $50,000 today that had an original value of $20,000 may save more than $9,196 in taxes! Put your own data into our calculator and see what a gift annuity for you might look like.
Deferred Gift Annuity for Income at Future Date
Perhaps you are not ready to begin receiving income until a future date, such as when you retire. You can establish a deferred gift annuity this year, receive a charitable income tax deduction for this year, and then begin receiving payments in a designated future year. Best of all, because you deferred your payments, your annual payment will be higher than with a current annuity. Contact us about flexible date options for your future income.

Partner with us through a charitable gift annuity - a real "win" for you and a real "win" for the poor. Simply contact our Stewardship Gifts Officer, Sean Mills, at 1-800-248-6437 ext. 1558, or email him at smills@fh.org to find out more or to begin the process."