Establishing your legacy plan – the most important stewardship step of your life. Let us help you get started.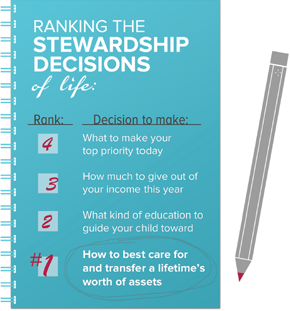 Ranking Your Stewardship Decisions
Why is your legacy plan probably the most important stewardship step of your life? For two reasons:
1. A lifetime's worth of accumulated assets
What's at stake is the distribution of a lifetime's worth of accumulated assets. There is usually more financial value in those assets than in any asset you've distributed previously in life. In God's eyes, this forms a big opportunity.
2. Great relational impact on your loved ones.
Pass the batons well in your life's race and witness how great a relational impact you can have in the lives of those closest to you.
Baton #1 – Impart wisdom to guide the use of the financial assets you're transferring. This is often a time when your family is emotionally most open to listening.
Baton #2 – Clearly lay out the distribution of all you own. What goes to whom and when. By doing this, you eradicate the ambiguity that can, later, so easily become a bone of contention between those you love.
Baton #3 – Let the charitable gifts you include in your legacy plan speak volumes about where your passions lie. Make a present and eternal difference in the lives of many in need.
The cost of inaction is high. But the opportunity is even higher! Let us help you walk through this critical stewardship step. Our Free Legacy Kit walks you through the process, helping you think through things from a stewardship perspective, assuring that you cover all the most critical issues, simplifying what feel like complicated, technical matters.
To get started, just ask for your
Free Legacy Kit
or try our
Online Wills Planner
today