As Partners in Ministry
We
Can
Help Each Other
Fund a gift annuity and Food for the Hungry will distribute fixed payments to you or your loved one for life
Planned Giving
Automate Planned Giving with Food for the Hungry
We're delighted you stopped by to explore how Food for the Hungry can help with your charitable giving plans. Here you can see the process for giving a non-cash item. You'll also find guidance for structuring gifts through wills, trusts, business interests, gift annuities or retirement plans. We're here to serve you, whether you're thinking about how to give wisely, or you're ready to put a planned gift in place.
Where Would You Like to Begin?
Think First, Then Give


Prepare your mind and heart as you make legacy arrangements.
Learn More
Ways to Support FH


See what assets you can give and learn wise ways to give them.
Learn More
Craft Your Legacy


Make ending poverty in someone's life be part of your legacy.
Learn More
Breaking News
Phone Scams, IRAs and Tax Extensions: The IRS published multiple reminder letters this week. In IR-2017-64 the Service warned tax preparers to watch for phishing emails claiming to be from clients. The latest tactic is for a scammer to send an email to tax preparers with a "last...
Read More
Be Inspired by Other Ministry Partners
Listen to your fellow FH partners share about their legacies.
Think First, Then Give

Before you begin planning, take a moment to prepare your heart for the process.

With a heart of prayerful resolve, you can cut through the challenges of technical plans, financial calculations, legal concerns, or tough personal decisions. While some technical aspects may be daunting or unpleasant, don't let these tasks derail you. We're here to help you establish a sound legacy arrangement.
Four Considerations
Lets begin by thinking through the following four points before you create your plan.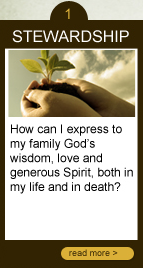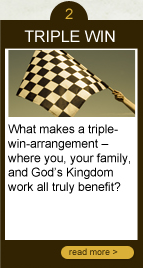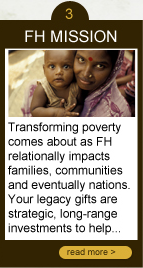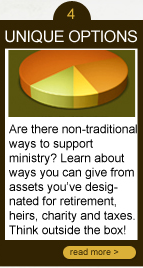 Remember that your hard work will be preventing contentious family relations, expensive probate proceedings, and the loss of your hard-won assets to unnecessary taxation. Also, the more time you spend thinking over this decision and using this site's free resources, the less time you'll have to spend in expensive consultation with professional advisors. Your work here will pay significant dividends! In the end, you'll know that your legacy gifts will have a truly life-changing impact, both for your family and for families in great need around the world.