As Partners in Ministry
We
Can
Help Each Other
Fund a gift annuity and Food for the Hungry will distribute fixed payments to you or your loved one for life
Planned Giving
Automate Planned Giving with Food for the Hungry
We're delighted you stopped by to explore how Food for the Hungry can help with your charitable giving plans. Here you can see the process for giving a non-cash item. You'll also find guidance for structuring gifts through wills, trusts, business interests, gift annuities or retirement plans. We're here to serve you, whether you're thinking about how to give wisely, or you're ready to put a planned gift in place.
Where Would You Like to Begin?
Think First, Then Give


Prepare your mind and heart as you make legacy arrangements.
Learn More
Ways to Support FH


See what assets you can give and learn wise ways to give them.
Learn More
Craft Your Legacy


Make ending poverty in someone's life be part of your legacy.
Learn More
Breaking News
Phone Scams, IRAs and Tax Extensions: The IRS published multiple reminder letters this week. In IR-2017-64 the Service warned tax preparers to watch for phishing emails claiming to be from clients. The latest tactic is for a scammer to send an email to tax preparers with a "last...
Read More
Be Inspired by Other Ministry Partners
Listen to your fellow FH partners share about their legacies.
Provide for Your Family and Impact Families in Great Need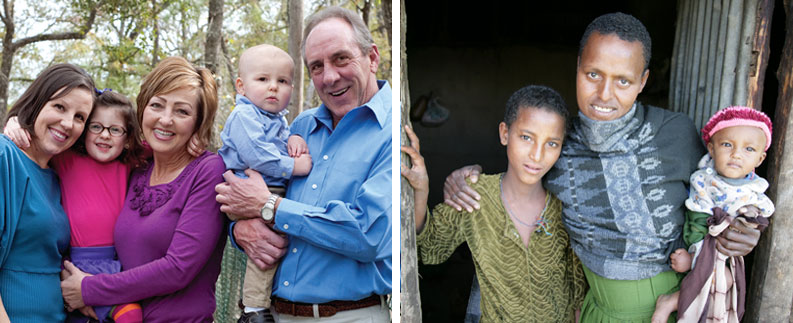 Charitable Gift Annuity
Secure a reliable income stream back to your family and help end poverty -
that's Food for the Hungry's gift annuity in a nutshell.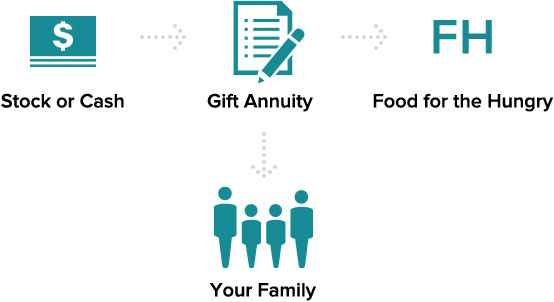 How It Works
Use a portion of your cash, stocks or property to fund a gift annuity with FH.
Receive a charitable deduction in the year you fund the gift annuity.
FH invests the funds and pays a fixed income for life to you, your spouse or a person you designate (recipient is called the annuitant).
At the annuitant's death, FH uses the remainder to bring Christ's transformative work to the most vulnerable who live in some of the world's hardest places.
That's it. No more stress over the volatility of the market, no more hassle investing the asset. We manage it and you enjoy the steady income payments.
Personal Benefits
Explore the benefits in our new eBook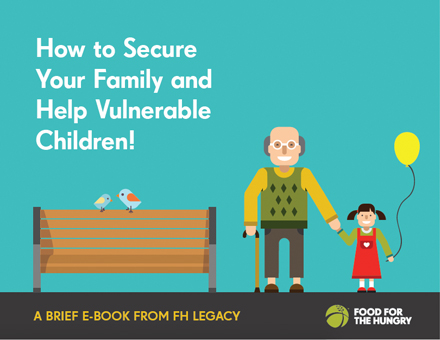 Secure Your Loved One's Future
Income to the annuitant is a fixed amount (s)he can count on for life. It's contractually secured by all the assets of FH.
Simplify Your Life
All the responsibility for stewarding the asset will be on FH's shoulders once you establish the gift annuity. You just receive the payments! Simplifying life has some appeal, doesn't it?
Receive Attractive Payout Rates
The older the annuitant is, the higher the payments will be. See some sample rates below.
Enjoy Advantageous Tax Treatment
- Receive a charitable income tax deduction when you fund the annuity.
- Bypass a portion of the capital gains tax (If donor is also the first annuitant).
- Receive partially tax free payouts.
For example, funding a gift annuity with appreciated stock worth $50,000 today that had an original value of $20,000 may save more than $9,196 in taxes!
Create a Legacy With Impact
First, the gift annuity provides for your family. Then, the remainder goes toward ending poverty. Together, both stages form a God-honoring legacy.
FH Gift Annuity Rates*
(Single life, immediate start date)
*These rates reflect those set by the American Council on Gift Annuities in effect April, 2015.
| | |
| --- | --- |
| AGE | RATE |
| 65 | 4.7% |
| 70 | 5.1% |
| 75 | 5.8% |
| 80 | 6.8% |
| 85 | 7.8% |
| 90+ | 9% |
Put your own data into our calculator
and see what a gift annuity for you might look like.

Deferred Gift Annuity for Income at a Future Date
Perhaps you are not ready to begin receiving income until a future date, such as when you retire. You can establish a deferred gift annuity this year, receive a charitable income tax deduction for this year, and then begin receiving payments in a designated future year. Best of all, because you deferred your payments, your annual payment will be higher than with a current annuity. Contact us about flexible date options for your future income.