As Partners in Ministry
We
Can
Help Each Other
Fund a gift annuity and Food for the Hungry will distribute fixed payments to you or your loved one for life
Planned Giving
Automate Planned Giving with Food for the Hungry
We're delighted you stopped by to explore how Food for the Hungry can help with your charitable giving plans. Here you can see the process for giving a non-cash item. You'll also find guidance for structuring gifts through wills, trusts, business interests, gift annuities or retirement plans. We're here to serve you, whether you're thinking about how to give wisely, or you're ready to put a planned gift in place.
Where Would You Like to Begin?
Think First, Then Give


Prepare your mind and heart as you make legacy arrangements.
Learn More
Ways to Support FH


See what assets you can give and learn wise ways to give them.
Learn More
Craft Your Legacy


Make ending poverty in someone's life be part of your legacy.
Learn More
Breaking News
Phone Scams, IRAs and Tax Extensions: The IRS published multiple reminder letters this week. In IR-2017-64 the Service warned tax preparers to watch for phishing emails claiming to be from clients. The latest tactic is for a scammer to send an email to tax preparers with a "last...
Read More
Be Inspired by Other Ministry Partners
Listen to your fellow FH partners share about their legacies.
IRA Rollover Update In 2015, Congress enacted a permanent extension of the IRA charitable rollover. As a result, individuals age 70½ or older can make gifts directly from their IRA to charity in 2015, 2016 and beyond.
IRA Charitable Rollover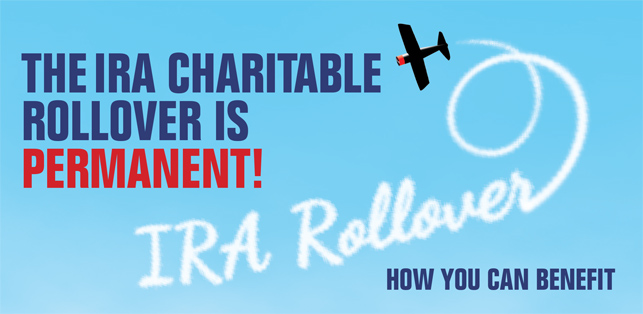 You may be looking for a way to make a big difference to help further our mission. If you are 70½ or older, an IRA charitable rollover is a way you can help continue our work and benefit this year.
IRA Charitable Rollover
IRA (Custodian)
FH

Benefits of an IRA charitable rollover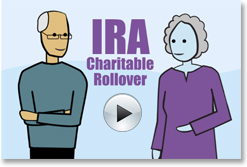 Avoid taxes on transfers of up to $100,000 from your IRA to our organization
Make a gift that is not subject to the deduction limits on charitable gifts
Help further the work and mission of our organization
How an IRA charitable rollover gift works
Contact your IRA plan administrator to make a gift from your IRA to us.
Your IRA funds will be directly transferred to our organization to help continue our important work.
Please note that IRA charitable rollover gifts do not qualify for a charitable deduction.
Please contact us if you wish for your gift to be used for a specific purpose.
Contact us
If you have any questions about an IRA charitable rollover gift, please contact Kathy Feruglio at 800-248-6437 ext. 1147.